Elaine Bishop is a NODA award-winning musical director currently working on a freelance basis with Lincolnshire Star Academy and D2E Theatre Company.  
Since returning to Grantham in 2003 after completing her degree, Elaine has become a key figure in the local musical community as a well-respected musical director.
Elaine has worked with Lincolnshire Star Academy as a vocal coach and musical director since 2010, working with the senior students on musicals including Cats, The Wizard of Oz, The Sound of Music and Joseph and the Amazing Technicolor Dreamcoat. Her work with D2E Theatre Company began in 2016, conducting Evita, followed by Sweeney Todd School Edition in 2017 and Jekyll & Hyde in May 2018.
She worked with The Grantham Singers for 12 years (2004-2017) directing many operettas – The Merry Widow, Merrie England, The Zoo and La Vie Parisienne – and many Gilbert and Sullivan productions inc. Iolanthe, The Pirates of Penzance, Trial by Jury, Ruddigore, HMS Pinafore, The Mikado and The Sorcerer. The concert she devised and directed for their Diamond Jubilee Celebrations in 2013 won the NODA East Midlands Region 5 'Best Concert' Award.
For one year only (from September 2014 – August 2015), Elaine also conducted the Belvoir Wassailers (a male voice choir based in the Vale of Belvoir). Being a qualified primary teacher, Elaine is also experienced in directing children and school choirs and was coordinator and musical director for the West Grantham Federation Schools Choir in 2008-2009 before joining Lincolnshire Music Service.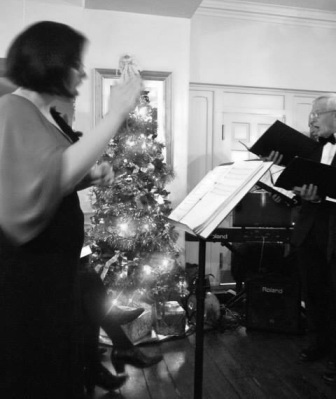 Belvoir Wassailers concert – December 2014 – Photo copyright – Rita Jackso
"Excellent musical accompaniment …under the direction of the immensely talented Elaine Bishop" (NODA, Trial by Jury)
"The famous numbers of the show, without exception, were…sung with great brightness and energy: a credit to musical director Elaine Bishop." (Grantham Journal, The Sound of Music)
"Mention must be made of the chorus…directed and conducted by the talented Elaine Bishop." (Grantham Journal, HMS Pinafore) 
"We saw Evita last night and were absolutely blown away. The whole thing was truly remarkable…across the board the singing was great and such a credit to you. The score is difficult and the click tracking is so hard to manage. Not in your hands. Great job." (Audience member, Evita)